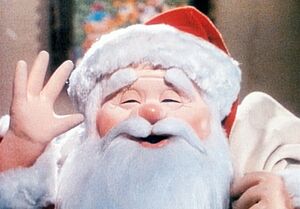 Santa Claus is a traditional, secular figure of Christmas good cheer, generally depicted as a jolly fat, old man in a red suit. Other nations have their own variations, such as Father Christmas in England and Sinterklaas in the Netherlands. As a character prominently associated with Christmas, Santa has been featured in more Rankin/Bass holiday productions than any other character, appearing in nine of the company's Christmas specials and even making guest appearances in two Easter specials.
Performers
Edit
External links
Edit
Ad blocker interference detected!
Wikia is a free-to-use site that makes money from advertising. We have a modified experience for viewers using ad blockers

Wikia is not accessible if you've made further modifications. Remove the custom ad blocker rule(s) and the page will load as expected.