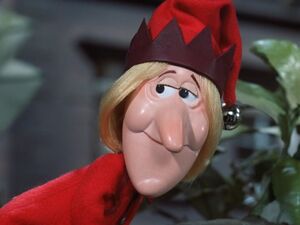 Jangle Bells serves as an elf at the North Pole for Santa Claus's operations in The Year Without a Santa Claus. Along with his buddy Jingle Bells, he is sent into the outside world by Mrs. Claus to see if there are any people out there who still believes in Santa Claus.
The more dim-witted of the two elves, Jangle speaks in a heavy drawl and moves about in a clumsy fashion. However, Jangle does accurately point out when their reindeer companion Vixen becomes ill during their visit to Southtown.
Jangle, along with Jingle, notably also makes a cameo in the opening scene from Nestor, the Long-Eared Christmas Donkey.
Ad blocker interference detected!
Wikia is a free-to-use site that makes money from advertising. We have a modified experience for viewers using ad blockers

Wikia is not accessible if you've made further modifications. Remove the custom ad blocker rule(s) and the page will load as expected.